IP-DECT site survey
When calling cannot be submissive of interference.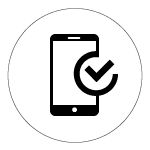 IP-DECT is an optimal solution for wireless data transmission, offering all the benefits of a wireless network.
In stressful situations, you need a communications system that you can depend on. User-friendly technology that quietly goes about performing its job, regardless of the demands on capacity.
Whilst the majority of Wi-Fi networks are relatively stable, some organisations, such as hospitals, have more stringent requirements. They need a robust communication system that can handle a significant amount of stress on a daily basis. They also have extremely specific demands when it comes to its usage within the organisation itself, such as the management of patient alarm systems for example.
IP-DECT a reliable wireless communication solution that offers enterprise- grade telephony, professional messaging, personal alarm, and positioning over secure dedicated frequency bands.
The major task in installing an IP-DECT system is defining the number of base stations required to cover an area to a satisfactory level.
Small sites usually have a homogeneous layout, it is therefore easy to predict the field pattern of the base station which makes the planning relatively easy. The larger the site, the more complex the site survey becomes. Since a larger site often is less homogenous the base station placing will be more difficult. Generally the client has particular requirements which have to be considered, these requirements can be coverage in a lift, underground car park, conference rooms, outdoors and so on.
Advanced Networks provides IP-DECT site surveys for a properly DECT multicell system deployment.